A fabric sofa is a sought after choice of furniture for Singapore homeowners. There are plenty of colors and prints to choose from, so you get many options for picking a sofa that complements the ambiance of your home. Fabric sofas are more comfortable than leather sofas in the hot and humid weather of Singapore. Moreover, a good quality fabric sofa doesn't leave a dent in your bank account.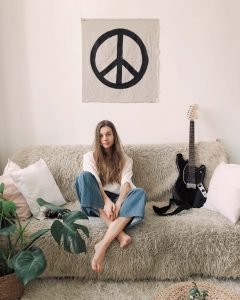 If you have decided that a fabric sofa will grace your home, the next task is to figure out which kind of fabric sofa you want to buy- as there are many variations within fabric sofas itself. There are different shapes and sizes to choose from, based on the size of your room. And of course, there are a variety of fabrics out there. So how do you figure out the best material for the fabric sofa?
If you are planning to buy a fabric sofa, we have some tips for you that can help you choose the right fabric material-
(i) Go for a durable fabric like corduroy or microfiber blend if your sofa is going to get used a lot. A living room sofa, especially in a home with kids and pets, should be sturdy and the material should be resistant to wear and tear.
(ii) If you are willing to buy a sofa for your own personal luxury, feel free to splurge on a velvet sofa or high-thread-count cotton. A small sofa of such fabric is ideal for a setting like a personal library. These fabric materials are strictly for places where children and pets won't damage them, and they require more effort on maintenance.
(iii) If you or someone in your family has allergies, do not buy a fabric sofa with fabric that has natural blends or fluffy textures. Such fabrics accumulate dust, pet hairs, allergens, etc. which can give trouble to a sensitive person.
(iv) If your sofa is going to be placed at a spot that receives direct sunlight, prefers a sofa with light-colored or stain-resistant fabric. If you will place a dark-colored fabric sofa in such a spot, the color will start fading.
(v) Sofa colors can make a dramatic difference to the look of your home. If your heart is set on buying a light or pastel-hued sofa, make sure that it has removable covers that can be washed, or the upholstery has been treated to be stain repellant.
(vi) Fabric sofas can be plain or patterned. It's totally up to your choice of what you want to buy. In general, bold shapes and patterns look good on the smaller sofa, while plain and textured fabrics suit a large sofa well
(vii) You really need to look at the care tag before making the final selection. That will help you understand what kind of maintenance is needed for each material, and you can decide whether you will be able to take care of it or not. It will also help you need to understand how the material will age. Yes, you need to think about how the sofa will look in a couple of years, as it is not something that you will keep buying again and again.
Understand your requirements well before you make a selection. Figure out why are you buying the sofa- how many people would use it, where will you place it in the home, how much time are you willing to devote to its care. Also, it is essential to follow a cleaning schedule at home and rope in a professional upholstery cleaner once in a year for the longevity of your couch. If you have kids and pets, it is better to hire professional cleaning services for your sofa twice a year.