Painting is definitely something that gives our homes an instantly beautified look. And, painting is also something that has the capability of helping our home become more valuable in the market, if we talk about selling it or renting it out. However, an important question that arises here is that painting is also a bit costly, so should we just take the leap of faith and paint our homes ourselves when the need be? Or, should we only depend on a professional painter or a professional provider of painting services to get the job done? Let's investigate!
Painting is a Little More Than "Coloring"!
Majority of us feel that painting is just coloring the walls after all, but this approach towards painting is not right. Painting is a lot more than just coloring and demands a certain level of expertise and skills. It has rules of its own, which we as laymen may not be aware of. It's true that painting transforms an otherwise mundane home into a bright and vibrant place to live, but only if done the right way. Thus, it's always advisable to hire a professional painter when you want your home painted. A simple area specific Google search as Painting Services Singapore or House Painting Singapore should give you a fair enough list of professional providers of painting services in your area.
But, even after that if you really want to go about painting your home yourself, there are some points to take note of.
What to Take Care of While Painting on Your Own?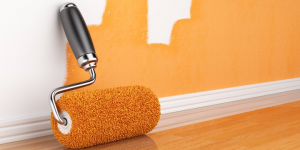 Invest in Quality Raw Material
We can't stress this enough! It is crucial to not to compromise on any painting supplies and raw material. While it may seem super tempting to go for cheap raw materials but this causes harm in the long run. You should always invest in top-quality paint, primer and caulking compound. Top-quality paint not only lasts longer, but also flows better and covers better as compared to cheap, poor-quality paint. A pro tip here – Consider buying paint that has a lifetime warranty against defects in the finish.
Make Use of the Right Painting Tools
Well, although you can't learn painting over night, however, you can enhance the output by taking precautions and following the protocol. It is crucial to use a high-quality (not necessarily expensive) brush, roller and, for some homes, an airless sprayer. If you are painting yourself, you either need to buy all of these or rent them. This is yet another reason why it is advisable to hire a professional painter, because they would bring tools themselves. However, if you must paint yourself, you can rent these tools at some painting and hardware tool rental outlets.
Painting is often not taken as seriously as it should be. It must not be seen as an added expenditure, rather it must be seen as an investment that helps enhance the monetary value of your home. So, the next time you search Google for Painting Services Singapore or House Painting Singapore makes sure that you do not shortlist options on money but on value. Also, if you are looking for a professional provider of cleaning, aircon, painting and polishing services in Singapore, you must visit our website here!